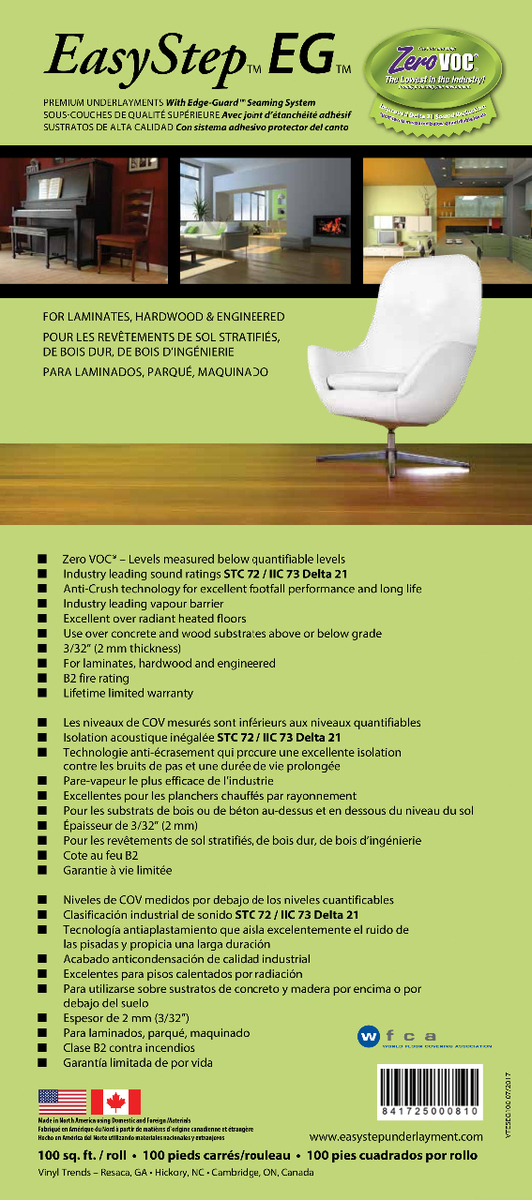 EasyStep EG
Premium Underlayment
EasyStep EG is a truly superior underlayment and an advanced acoustic barrier for laminate, engineered and hardwood flooring.  Containing no Volatile Organic Compounds means that EasyStep Foam is the first and only ZeroVOC* underlayment on the market. This new technology provides zero harmful emissions and exceeds all standards for indoor air quality including the California protocol.  V.O.C. BlOCKER TM additionally protects your family from harmful sub-floor emissions by blocking their direct transmission into the room.  EasyStep is an inert product that is Hypo-Allergenic and Mold/Mildew/Bacteria resistant with NO Toxic additives CFC/HCFC/PVC/BHT/Pinta Bromide/latex or antimicrobials.
Rated among the highest in the flooring industry with acoustic ratings of IIC73/STC72 and Delta IIC21.  We have developed this material utilizing a complex new foam technology with SSR (Superior Sound Reduction) exceeding uniform building codes.  Engineered to be Anti Crush for excellent footfall performance and to add life to your flooring.  EasyStep is an excellent choice for radiant heat floors as well.  Patented Seal Guard EG is added to create a building code approved vapor barrier seam unlike any other between two pieces of underlayment.  Utilizing sheathing tape, it creates a 3 1/2″ wide seaming system which provides up to 20 times wider protection then competing systems.  As the majority of vapor leakage is caused by leaky or inadequate seams, the Seal Guard System gives this product a distinct advantage over all of its competitors.
We welcome you to try EasyStep EG for better performance on your next flooring projects.
*VOC levels measured below quantifiable levels