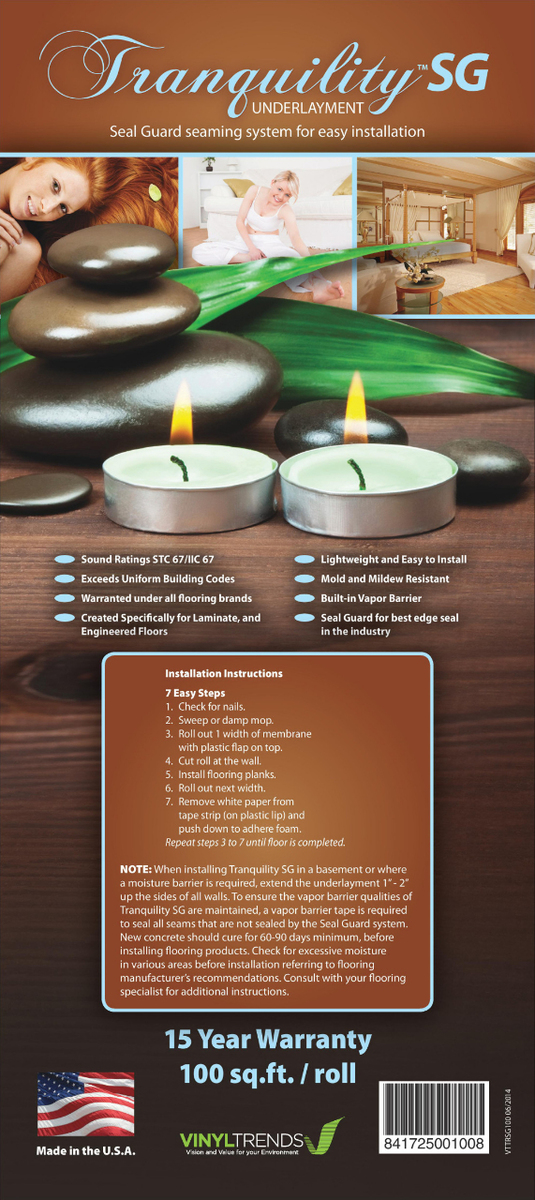 TRANQUILITY SG
Premium Underlayment
Tranquility SG was created to be an advanced acoustic barrier for laminate, engineered and hardwood flooring.  Tranquility is an inert product that is Hypo-Allergenic and Mold/Mildew/Bacteria resistant with NO Toxic additives CFC/HCFC/PVC/BHT/Pinta Bromide/latex or antimicrobials.
Rated among the highest in the flooring industry with acoustic ratings of IIC67/STC67.  Engineered for excellent footfall performance and to add life to your flooring.  Tranquility is an excellent choice for radiant heat floors as well.  Patented Seal Guard SG is added to create a building code approved vapor barrier seam unlike any other between two pieces of underlayment.  Utilizing sheathing tape, it creates a 3 1/2″ wide seaming system which provides up to 20 times wider protection then competing systems.  As the majority of vapor leakage is caused by leaky or inadequate seams, the Seal Guard System gives this product a distinct advantage over all of its competitors.
We welcome you to try Tranquility SG for better performance on your next flooring projects.